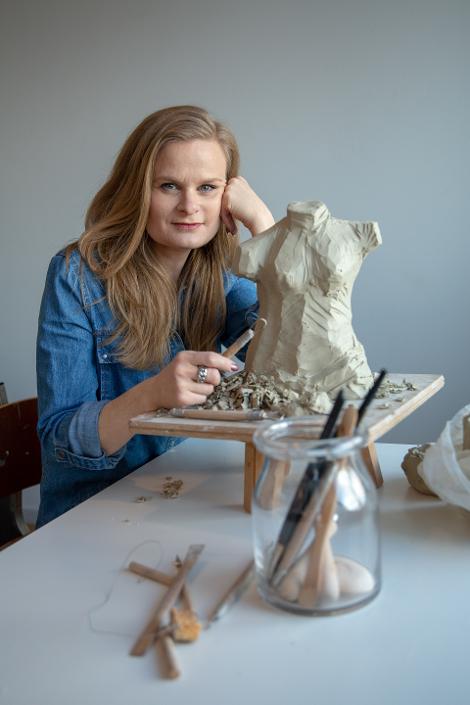 Kristiina Engelin
Fine artist, sculptor, designer, art educator
b. 1973, lives in South of Sweden
Presentation
I work as an Art educator alongside a career as an artist and my design brand is known simply as my name K R I S T I I N A.
My studio is in the beautiful countryside of Sweden where I mainly work with my clay but also mixed media and painting.
You can follow me on Instagram: kristiina_se for more about my work.
Interview
Me telling about my work in
DESIGNPODKAST

-Interview by Per Olav Sølvberg, Norway (Swedish)

Studies
Masters in Arts and English, Umeå University, Sweden
Swedish Design History University credits, Halmstad University, Sweden Research Essay "Visual Arts- Artists and Galleries/Museums", Manchester University, UK Folk High School, Arts and Sculpture, Rimforsa, Sweden CAE-exams in Arts at Whakatane High School, New Zealand Painting and Sculpture Evening School, Mariestad, Sweden

Featured in

Interview in Willow Style, 2019
Interview in Merrymen Magazine, Dec 2018
Plaza Interior Magazine, Dec 2018
Interior Magazine Nya RUM, Nov 2018
Interior Magazine Nya RUM, June 2018
My Residence Magazine SE, May 2018
Elle Decoration UK, April 2018
My Residence Magazine SE, the Ode to, Feb 2018
Elisabeth Heier, Jan 2018
My Residence, international Bookazine 2018
Jennifer Hagler, A Merry Mishap blog, Nov 2017
Elle Decoration Magazine SE, Dec 2017
RUM Interior and Design Magazine, nr 3/2017
Plaza Interior Magazine Woman SE, July 2017
My Residence Magazine SE
, Aug 2017
Publicly Represented

Halmens hus, curated by Jimmy Schönning, 2019

Muuto, Sthlm Furniture Fair, Stockholm, 2019


COOEExKRISTIINA, Formex Fair, Stockholm, 2019
Sculptures at Oslo Design Fair, Norway, 2018
Sculptures at Salone del Mobile Milan, Italy, 2018
Sculpture at Lutitia Hotel, Paris, France, 2018
One of 5 winners in "Samsung the Frame" Contest, finalist in the Nordic region, Sweden, 2017
One of the finalists in Artist Association Suomiart Artist of the Year- award, Sweden, 2015
Book cover Swede-Finn-research by Krister Björklund, published in Sweden, 2012
Wallpainting at Eglo Showroom, Varberg, Sweden
Paintings Pentacostal Church, Varberg, Sweden
Publicly represented at Varberg Hospital, Sweden, Sweden
Painting at Migration Board, Turku, Finland

Collaborations